Stakeholder workshop presentation slides available
ReSolve stakeholder workshop was conducted at EFIB 2019, 30 September 2019 in Brussels. Download the presentations here as pdf files by clicking the title of the presentation.
Dr.Petra Hogervorst (RIVM, NL):  Integral assessment of safety and sustainability
Dr. Jane Murray (Merck KgaA, DE): Commercial introduction of novel green solvents to the global scientific community
Prof. James Clark (University of York, UK): Introduction and highlights
Dr. Barbara van Vugt-Lussenburg (BioDetection Systems, NL): An integrated testing strategy to evaluate toxicological safety issues of candidate solvents
Dr. Fabien Deswarte (Circa Sustainable Chemicals Ltd, UK): Safer and high performing bio-based alternatives to NMP
Dr. Fergal Byrne (University of York, UK):  Safer and high performing bio-based alternatives to toluene
Special issue on 'Bio-based Safer Solvents'
ReSolve is running a special issue on 'Bio-based and safer solvents' hosted by Molecules (MDPI, Open Access). This Special Issue will bring together researchers from different disciplines with the purpose of providing and demonstrating the use of safe and sustainable solvents for the benefit of industry and society. Contributions are welcome from chemistry, biochemistry, chemical engineering, toxicology, policy, and the environmental sciences. We welcome submissions of original research and reviews that address some aspect of the Special Issue's theme. Click here to submit your entries. Submission deadline is 31 May 2020.
ReSolve at BMC 2018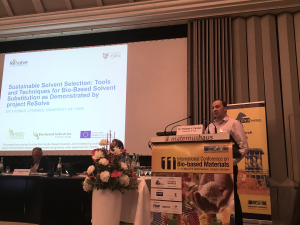 ReSolve coordinator, Dr. Thomas Farmer, was invited to give a talk about his work in a session entitled 'Environmental Solutions' at the 11th International Conference on Bio-based Materials in Cologne, Germany. Dr. Farmer's talk was focussed on the tools and techniques for bio-based solvent substitution as demonstrated by project ReSolve. His talk looked in greater detail at two leading candidates (2,2,5,5-tetramethyloxolane and Cyrene) currently under further investigation and scale-up. The talk finished with a description of how the solvent selection techniques are developed for the above two candidates are being further extended to seek other alternatives for the future.