Term: 1st June 2017 – 30 November 2020
ReSolve sets out to replace two hazardous solvents – toluene and NMP (N-methyl-2-pyrrolidone) – with safer alternatives derived from non-food carbohydrates. These new solvents will omit parts of the molecular structure that cause toxicity. The new, safer solvents will have a wide range of applications; project ReSolve will also demonstrate their sustainability, low health impact and high application performance.
These bio-based solvents will allow Europe's solvent industry to avoid the negative economic impact of the regulatory restrictions on the use of hazardous solvents. The impact of this research is relevant to thousands of downstream businesses and consumers, whilst reducing the health impact on millions of European citizens that are routinely exposed to solvents as part of their job.
In addition, ReSolve intends to create a pipeline of new solvent candidates offering substitution options for other hazardous solvents in the near future.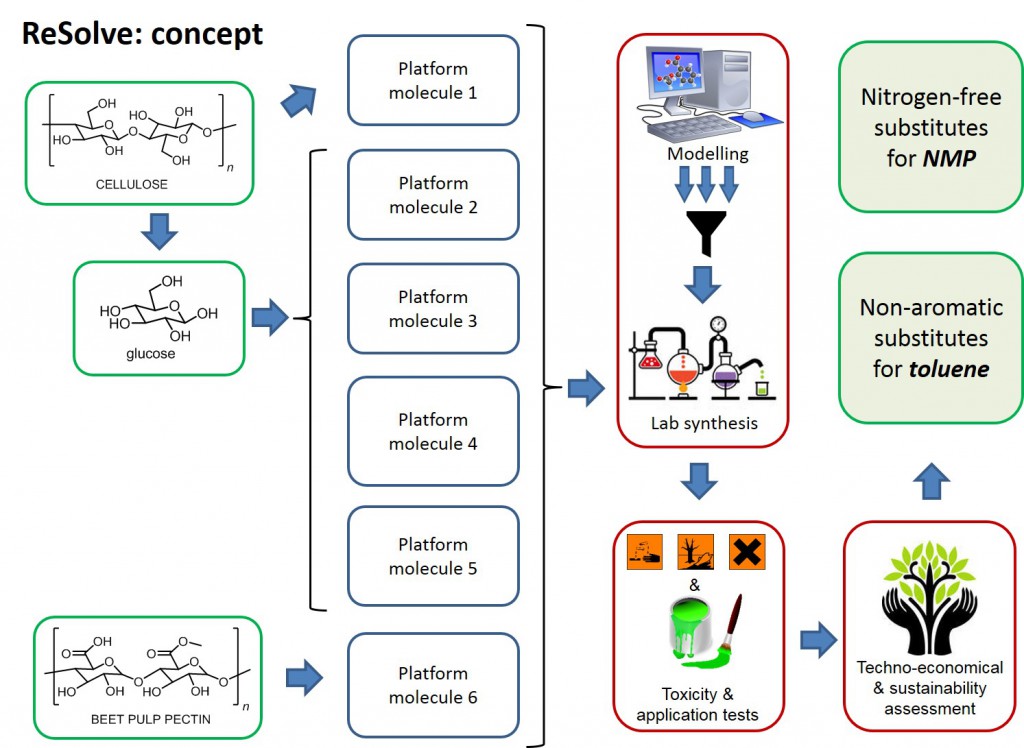 Objectives:
The overall objective of ReSolve is to replace common, fossil-derived solvents that the European REACH regulation has identified as substances of very high concern (SVHC) or has already put restrictions in place. The specific objectives will be to:
Produce novel carbohydrate-based solvents to replace the existing toxic solvents NMP and toluene. The acceptance of these bio-based substitutes will be based on their application performance and toxicity, which should be at least equal to the benchmark solvent with toxicity below European regulatory thresholds.
Create an additional pipeline of non-toxic bio-based solvents, evaluate their potential in pertinent applications and ensure they pose minimal risk to human health.
Establish an innovative, cost-effective integrated testing strategy for rapidly evaluating the toxicology of candidate solvents.
Production of at least two novel carbohydrate-derived solvents on a scale that is suitable for application testing in a relevant industrial setting.
Evaluate potential production processes for the most advanced bio-based solvent candidates, environmentally and techno-economically benchmarked against the conventional solvents they will replace. This will include an analysis of market uptake potential and the feedstock supply security.
Reach out to, involve and train stakeholders by using a variety of channels and platforms and incorporate feedback from market actors in market uptake analysis.
Expected impacts:
Project ReSolve expects to have the following impacts. It will
Allow at least two hazardous or toxic substances used in consumer products and industrial settings to be substituted with safer, bio-based alternatives.
Create employment in the sector, by replacing the demand for NMP solvents – the majority of which are currently imported – with bio-based products manufactured in the EU.
Improve public health and safety by reducing the use of the toxic and environmentally damaging substances that present hazards to people and sensitive ecosystems.
Deliver reduced costs and higher market potential. This will reduce use of toxic and environmentally damaging substances.
Increase the bio-based content of new end-products while maintaining technical performance.
Improve EU innovation capacity and integrate new knowledge.